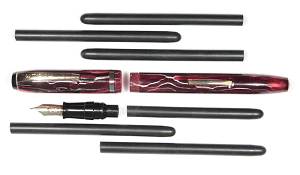 ANNOUNCEMENT - Oct. 21, 2015
© Fountain Pen Sacs.Com 2015 -2016
All Rights Reserved​


​​To all are valued customers and friends,
Fountain Pen Sacs.Com & Pen Sac Store.Com will be closing on

December 15, 2015

– or sooner depending on our available stock.

​​Five years have passed since we started selling fountain pen repair items on Ebay and our two websites: fountainpensacs.com and pensac-store.com. What started out as a part time business - to make a few extra dollars for a couple of retired people- turned into a full time business which exceeded our wildest expectations.
​
We have met (via emails) so many thousands of interesting people through this business – pen enthusiast like ourselves – who were friendly, cheerful, and sincere. Each day we found ourselves thinking how grateful and fortunate we were to be going down this fantastic journey. But it is time. We are getting older and want to have time for ourselves once again.
​
Thank you so much for all the wonderful years we have had together. We wish each and every one of you success with your future pen repairs. Larry and Ewa
PLEASE NOTE: We will try to keep our website up to date with available stock. However, if you place an order and the item is no longer available we will refund the purchase price of that item(s) and ship the remainder of the order.
December 15, 2015 - The time has come to bid ADIEU

Thank you to the fountain pen community for allowing us to serve your pen repair needs all these years. You are truly a very unique and wonderful group of people. Your sincere, heartfelt and caring response to our closing
announcement was overwhelming – we received hundreds of emails of well wishes – it was incredible and so much appreciated.

In a time where cursive is no longer taught in many schools and is fast becoming a lost art, most of today's generation will never know the beauty of writing with such fine instruments. For us, and we know most of our customer's feel the same, there is absolutely nothing like writing with a fountain pen. To that end, we hope our services in some small way supported and promoted their use. Not only for our generation but for the generation below us (our children) and possibly even for the
​ generation below them (our grandchildren). We sincerely hope all of your pen repairs and restorations are
​ successful.

Sincerely,

Ewa and Larry

larry@fountainpensacs.com
ewa@fountainpensacs.com​​​